Founded in 1880 by Léonard Lippman, the Brasserie Lipp is famous for its Hareng Bismark (pickled Baltic herring), its Choucroute Lipp (sauerkraut with sausages, pork, and ham), its Pied de Porc Farci Grillé (stuffed, grilled pigs' trotters), and its exquisite millefeuille. The latter is furnished by Delloyau, a renowned Parisian pastry and chocolate maker.
I recently had the occasion to taste the millefeuille at Lipp during a presentation by Pierre-Yves Jaslet on the history of the restaurant and the neighborhood.
The serving was generous, comprising two layers of thick vanilla-flavored custard cream sandwiched between three layers of puff pastry. The top was dusted with powdered sugar and embellished with zigzags of caramel.
The delicate pastry is difficult to eat, because the pressure of the edge of a fork on top of the pastry squeezes it down, causing the cream to ooze out. I finally made careful cuts with a knife, but even then the pastry almost collapsed in the plate.
I found the custard to be somewhat pasty, but that is the way it is supposed to be. I would not normally choose this dessert in a restaurant, but this was a special occasion to try it at the historic Brasserie Lipp!
* * * * * * *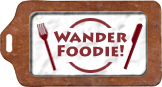 We participate in Wanderfood Wednesdays. Head over there to explore food from around the world!
Like our blog? Join us on Facebook!