We recently held a blind tasting of some of the best chocolate-covered cherries sold in Paris. To conduct the tasting, we assembled a panel of five specialists, one of whom is a chef, another who is an expert on French wines.
Chocolate-covered cherries are made from morello cherries (called griottes in French) that have been macerated for many weeks in eau de vie. After draining, they are dipped in a solution that consists of sugar, water, and glucose. After dipping, the sugar glaze that forms on the cherries is allowed to dry. Then the cherries are dipped in melted, tempered, dark chocolate and allowed to dry.
Most chocolate-covered cherries contain the cherry stone. The reason that it is not removed is because it is a source of flavor for the cherry. In our sample, all of the cherries had stones save the ones from Foucher.
Some manufacturers use a mechanical process to make chocolate-covered cherries. In this case, the stems are removed before the cherries go through the process. A few manufacturers, such as Jacques Bellanger, keep the stems on the cherries, in which case the product is too delicate to be processed mechanically.
The entries for our tasting (all of which were cited as being artisanal) were the following: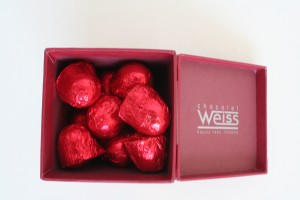 Weiss – Weiss is one of the few chocolate makers in France whose manufacturing process begins with the raw cocoa bean (most chocolate makers use chocolate that has already been extracted from the cocoa bean). Weiss roasts, grinds, and processes its beans to distribute the cocoa butter evenly within the chocolate (a process called conchage in French). From this basic material it creates white-, dark-, and milk-chocolate tablets in different flavors (lemon, coffee, orange…), and chocolate bars and discs. We purchased a box of chocolate-covered cherries from the Weiss boutique on rue de Seine in Paris.
Weiss
62, rue de Seine
75006 Paris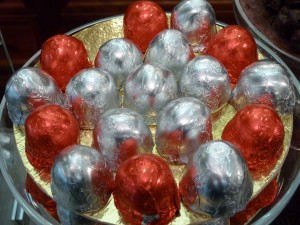 Jean-Charles Rochoux – This shop was founded by Jean-Charles Rochoux in 2004 on rue d'Assas in Paris. His chocolate-making abilities have been widely recognized since that time. In 2008, for example, he was one of the winners of the Grand Prix du Chocolat de Paris, a prize awarded by an association called Les Amants du Chocolat de la Couronne Parisienne. Mr. Rochoux creates imaginative products from chocolate, including truffles, ganaches, fresh-fruit-filled chocolate bars, and molded statues. Everything in his shop is made by hand in his on-site laboratory.
Chocolats Rochoux
16, Rue d'Assas
75006 Paris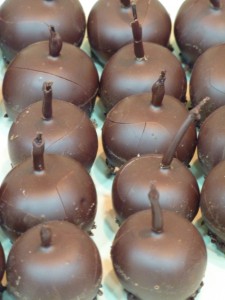 Jacques Bellanger – Mr. Bellanger has been awarded several titles in the chocolate-making profession, including Meilleur Ouvrier de France (best pastry chef and confectioner) in 1982. With his production facility in Le Mans, he turns out ice cream, cakes, pastries, and macarons, as well as chocolate confections, including roasted almonds dusted with chocolate, chocolate covered, candied lemon peel, and milk- and dark-chocolate tablets. We purchased his hand-made chocolate-covered cherries from Mococha, a retail shop on rue Mouffetard.
Mococha
89, rue Mouffetard
75005 Paris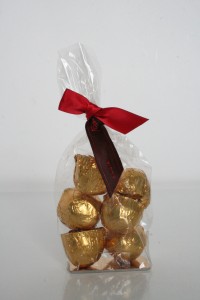 Foucher – Foucher's handsome store on rue du Bac was founded in 1819 by Nicolas Aubin Foucher. The company has been a family-run affair since that date. The illustrations that Foucher has commissioned over the years to enliven its packaged products are reused, year after year, rather than being discarded for something more modern. One of the designs, dating from 1906, is in the Art Nouveau style. Most are colorful, fanciful scenes that evoke reminiscences of fairy tales and adventure stories of childhood.
Foucher
134, rue Bac
75007 Paris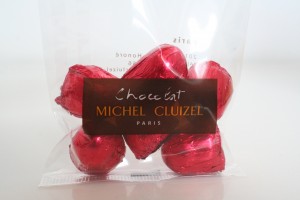 Michel Cluizel – Michel Cluizel is family-run company that was founded in 1947. Like Weiss, it is one of the few manufacturers of chocolate products that creates its confections from the raw cocoa bean. Its production facility is located in Damville in the Normandy region of France. The company prides itself in using only "noble" ingredients: pure cocoa butter and Bourbon vanilla pods. The chocolate contains no added aromas, and is made without the addition of soy-derived lecithin. We purchased Michel Cluizel's chocolate-covered cherries from its boutique on rue Saint-Honoré.
Michel Cluizel
201 rue Saint Honoré
75001 Paris

Our full report on the chocolate-covered cherry tasting can be found in the February edition of our newsletter Paris Insights. Enter a subscription to learn which of the five entries our tasting panel preferred! Readers of this blog will receive a $5 discount off the annual subscription price. To receive the discount, enter 946010 in the Promotional Code box on the newsletter sign-up page.
* * * * * * *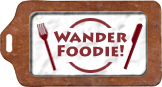 We participate in Wanderfood Wednesdays. Head over there to explore food from around the world!
Like our blog? Join us on Facebook!