Daniel Ungaro grows olives in the Vaucluse, a French administrative département in southeastern France. He recently paid a visit to the Première Pression Provence shop on Ile Saint-Louis in Paris, where we asked him some questions about olive growing.
He told us that most of his annual production of 2,000 liters comes from olive trees that are twelve years old. During harvest season, he watches the olives carefully and when they are ready, he spreads netting under the trees and shakes the trunks with a machine. The olives drop from the tree limbs into the nets; none that reach the ground can be used for pressing. He once hired workers to harvest his olives by hand, but the cost of labor now makes this method prohibitively expensive.
One of the surprising facts that he told us about olive trees is that they do not have natural pollinators (such as bees or other insects). Instead, it is the Mistral, a strong wind from the north that blows down to the Mediterranean, that pollinates the trees.
We tasted one of Daniel's oils, "La Cavalerie," produced from olives that have just started to ripen. It has a powerful, peppery flavor. Not for the timid! Jenna Thornton, manager of the store, served a number of hors d'oœvres, including chunks of country bread drizzled with the oil and sprinkled with tomato powder, goat cheese with garlic marinated in the oil and served on slices of baguette, and thinly-sliced raw zucchini flavored with fresh, crushed mint and drizzled with his oil. All were appetizing dishes!
For more information about Daniel Ungaro, click here.
Première Pression Provence
51, rue Saint-Louis-en-l'Ile
75004 Paris
Telephone: 09.66.98.23.48
Open Sunday to Friday 10:30 a.m. – 8:00 p.m.
Saturday 10:30 a.m. – 10:00 p.m
* * * * * * *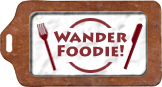 We participate in Wanderfood Wednesdays. Head over there to explore food from around the world!
* * * * * * *
Like our blog? Join us on Facebook!