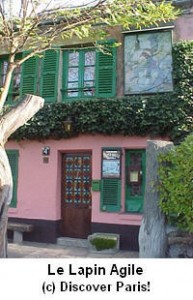 Our feature article for this month's Paris Insights newsletter is about Le Lapin Agile. Nestled on the northern slope of Montmartre, just downhill from a vineyard and uphill from a cemetery, the cabaret has existed since at least the early 19th century. Read about this historic place and learn why it evokes so much nostalgia.
Just down the north slope from the cabaret lies a restaurant called Bistrot Poulbot. Operated by Chef Véronique Melloul, it is a great place to dine before taking in the show! Read our review in this month's Le Bon Goût.
We interviewed Federico Santalla, one of the singers who used to perform at Le Lapin Agile. Read our account of his experience there in this month's Paris, Past and Present.
All three of these articles can be found in the June issue of the Paris Insights newsletter. To subscribe, please click here.