On the evening of August 17 I joined a group of burgerphiles for a boat cruise on the Ourcq Canal. The event was organized by the Seine-Saint-Denis Tourism Office. They put on some great events! (See my blog of August 21, 2013).
On board were Raphaëlle Gras and Bertrand Allombert, both chefs at a collective of associations called Plaine de Saveurs. Raphaëlle's association is called Chardi Kala. They organize events to promote the culture and traditions of Northern India. That night Raphaëlle would prepare an Indian vegetarian burger. Bertrand's association is called Chef on Line, a catering service that specializes in "nonconformist receptions." He would prepare an Italian burger, which he called vitello tonnato (veal with tuna sauce).
And so they began! Each chef demonstrated the fine points of burger making, while hungry burgerphiles looked on.
At last, the assembly! Bertrand finished his demonstration and began assembling the burgers.
Alas, we were entitled to only one burger. I quickly weighed the pros and cons of an Indian Vegetarian Burger versus an Italian "Vitello Tonnato" burger and decided to try the latter.
I enjoyed the flavor, but there was one small hitch. The burger contained a large piece of veal that had not been ground. As I tried to chew it, the portion slid out from between the buns and briefly dangled from my teeth. Although I was by myself, I imagined what I would have looked like if I had been sitting across the table from a woman whom I was wooing. This is not the kind of thing that one wants to happen on a first date!
A good time was had by all!
(A French burger blogger gave an account of this cruise at the following link: www.paris-burger.com/croisiere-degustation-les-burgers-du-monde. In the first picture, I'm the guy in the rose-colored shirt. I'm talking with Bertrand and enjoying the view of the canal. See the photos that I took of the scenes along the canal on Facebook!)
* * * * * * *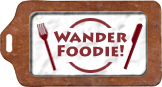 * * * * * * *
We participate in Wanderfood Wednesdays. Head over there to explore food from around the world!
Like our blog? Join us on Facebook!