Just as the 2010 holiday season was fading into distant memory, we are jolted back to the reality that today, February 2, is the last day of Christmas. For today is Candlemas (La Chandeleur in French), the celebration of the presentation of Jesus at the temple. Crêpes are traditionally prepared and consumed on this day.
We purchased two freshly-made crêpes from La Moisson, a bakery located just below rue Mouffetard at 2, rue Bazeilles, in the 5th arrondissement. If you do not eat them immediately, crêpes are best prepared by carefully unfolding them, placing them on a warm skillet, melting a pat of butter on them, and adding a sprinkling of sugar. Nutella (the brand name of a chocolate sauce containing ground hazelnuts) is a favorite filling in France for these ultra-thin pancakes.
Most readers of this blog do not enjoy the convenience of a neighborhood bakery that sells crêpes. For detailed instructions on how to make them, follow this link.
Bon appétit!
* * * * * * *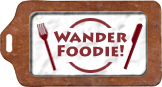 We participate in Wanderfood Wednesdays. Head over there to explore food from around the world!
Like our blog? Join us on Facebook!