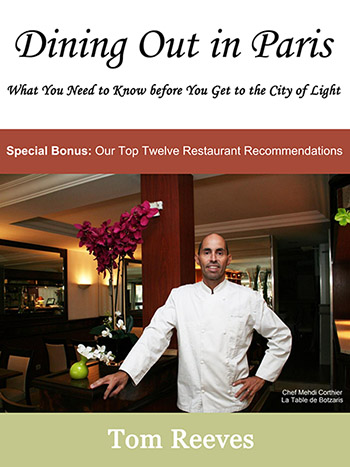 Last night we held a launch party for our new e-book Dining Out in Paris – What You Need to Know before You Get to the City of Light.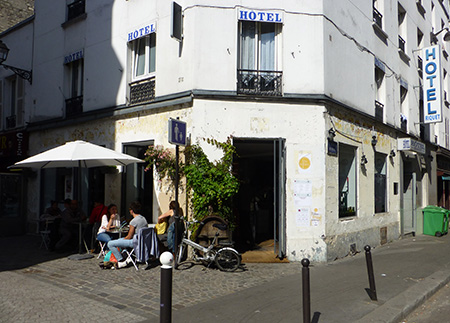 It was held at En Vrac, a cave à manger located at the corner of rue l'Olive and rue Riquet in the 18th arrondissement.
Eleven Paris bloggers and writers gathered to hear me talk about Dining Out in Paris and En Vrac owner Thierry Poincin talk about his wine shop and restaurant.
I explained that I wrote Dining Out in Paris with first-time travelers to Paris in mind. My intent was to provide helpful information about French restaurants and French dining customs so that newcomers will have confidence to enter a Parisian restaurant to enjoy a fine meal. As a bonus, I have included in-depth reviews of twelve of my favorite restaurants in the book.
Thierry explained how he sells wine en vrac (in bulk) to customers who bring their own bottle or leave a 2€ deposit for a bottle that the shop supplies. The bottles are filled from stainless-steel wine vats that contain wine protected from oxidation by nitrogen gas. He also talked about a new location that he'll soon be opening on rue Maubeuge in the 9th arrondissement.
The following Paris bloggers and writers attended:
Mary Kay Bosshart – Out and About in Paris
Charin Chong – Sight Seeker's Delight
Lisa Czarina – Ella Coquine
Anna Eklund-Cheong – Paris Haiku
Heidi Ellison – Paris Update
Rosemary Flannery – Passport to Paris
Gerri Chanel – Saving Mona Lisa
Lily Heise – Je T'aime… Me Neither
Ganit Hirschberg – Food, Wine, and Other Adventures
Claire Thomas – Sight Seeker's Delight
Laurel Zuckerman – Laurel Zuckerman's Paris Weblog
The party was hosted by:
Tom Reeves – Paris Insights
Monique Y. Wells – Entrée to Black Paris
Thierry Poincin – En Vrac
(En Vrac is one of the restaurants that I reviewed for Dining Out in Paris.)
A good time was had by all!
* * * * * * *
Like our blog? Join us on
Facebook
!