On Saturday, August 10, the Seine-Saint-Denis Tourism Office organized a wine adventure on the Ourcq Canal. Monique was there!
At 7:30 p.m., she showed up at the Bassin de la Vilette (in northern Paris) and waited for her boat to come in.
When she got on board, she saw the wine vats. The one on the left held Gamay, the one in the middle held Syrah, and the one on the right held Grenache. It was a lot of wine!
Fabrice of En Vrac, a wine shop in the 18th arrondissement, explained how the participants would blend their own wine from the three vats and have a private bottle to take home. What fun!
Before the blending began, everyone had a chance to taste each wine.
Then each person went from vat to vat with a beaker, drawing the proportions that would suit that person's taste when the wine was blended.
Monique checked her proportions carefully. She took chemistry in college, so she knew what she was doing!
After pouring two wines (Syrah and Grenache) in their proper proportions into a bottle (a funnel was used), Monique corked it. Fabrice told her to wait two weeks for the wine to "settle" before she opened it to drink.
Thierry (manager of En Vrac) sealed the cork with wax and applied a label.
Et voila! Monique's personalized blend of wine was ready!
Rosaura Martinez from Los Cabos Mexico BCS selected a blend of 15% Gamay, 75% Syrah, and 10% Grenache. She was there with her sister, who was celebrating her quinceañera.
As the boat pulled into dock, Monique shows off her prize!
A good time was had by all!
* * * * * * *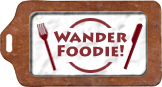 * * * * * * *
We participate in Wanderfood Wednesdays. Head over there to explore food from around the world!
Like our blog? Join us on Facebook!