I've had the occasion to blog about Elisabeth Pierre, bièreologue, before. Apart from her work as a consultant in the beer industry, she organizes tastings of artisanal beer around different gastronomic themes. On a recent Thursday evening I got a chance to attend her first-ever beer and food-pairing dinner. Called "Diner – Bières et Mets," it took place at Tempero, a restaurant that I recently reviewed for the Discover Paris! newsletter Paris Insights.
While Alessandra Montagne and her husband Olivier (not pictured) were in the kitchen preparing a great four-course meal, Elisabeth was in the dining room explaining that we would get to taste five beers that evening, each one specially selected to accompany the dishes that we would enjoy. Why five beers when there were only four courses? Because the main course was a pork dish that was prepared three different ways. Two different beers would be served with it.
Here is how the dishes and the beers were presented:
Starter – Velouté de moules (velouté of mussles) paired with Le Tournemine Real Ale du Berry.
Main course – Porc en 3 façons (pork prepared three ways) paired with La Yote Ale Blonde du Berrye and Combe aux Loups, a brown lager.
Cheese plate – Chèvre et Bleu (goat and blue cheeses) paired with L'Inquiète Stout du Berry
Dessert Royal au chocolat, glace au malte (rich chocolate dessert with a scoop of malt-flavored ice cream) paired with Griottines Cervoise.
I enjoyed all the dishes and all the beers and thought that the pairings had been well conceived. But if I had to choose a favorite pairing it would be the Royal au chocolat, glace au malte paired with the Griottines Cervoise, a wheat beer flavored with Morello cherry. The chocolate was smooth and rich, the ice cream had a surprising malt flavor, and the beer had a wonderful not-too-sweet cherry taste.
Two other beer industry professionals were present at the dinner. Jean-Simon Landry represents a microbrewery in Quebec called Le Naufrageur. He passed through Paris after having attended the Festival Mondiale de Bière Europe, held in Mulhouse, France in mid-September.
Johann Villedieu of Plaisirs et Qualité announced that his company will soon begin distributing artisanal beer to Parisian restaurants. This was indeed good news, because I have often tried to order craft beers in restaurants only to be told that they were not served there.
A good time was had by all!
* * * * * * *
Visit Elisabeth Pierre's Web site La Fille de l'Orge for information (in French) about her upcoming activities centered around the appreciation of beer.
* * * * * * *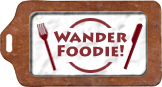 * * * * * * *
We participate in Wanderfood Wednesdays. Head over there to explore food from around the world!
Like our blog? Join us on Facebook!