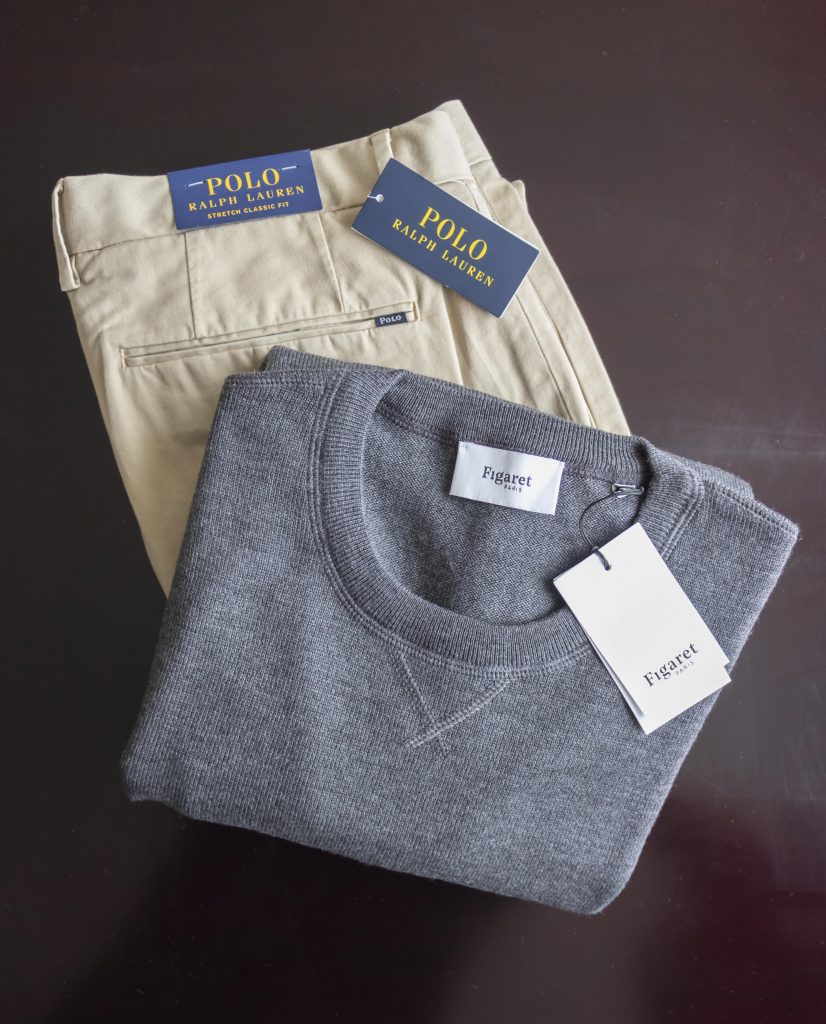 There are a few designer outlet stores in Paris where fashionable, ready-to-wear clothes are sold, but they are located in various parts of town. Because we did not want to spend time crossing and re-crossing the city to visit these far-flung shops, my wife and I decided to make an excursion to an outlet mall that lies about 40 km to the east of Paris. Called La Vallée Village, this mall boasts about 70 boutiques selling ready-to-wear designer brands, such as Hugo Boss, Kenzo, and Calvin Klein. I thought for sure that I would find some shirts and slacks there at prices within my budget.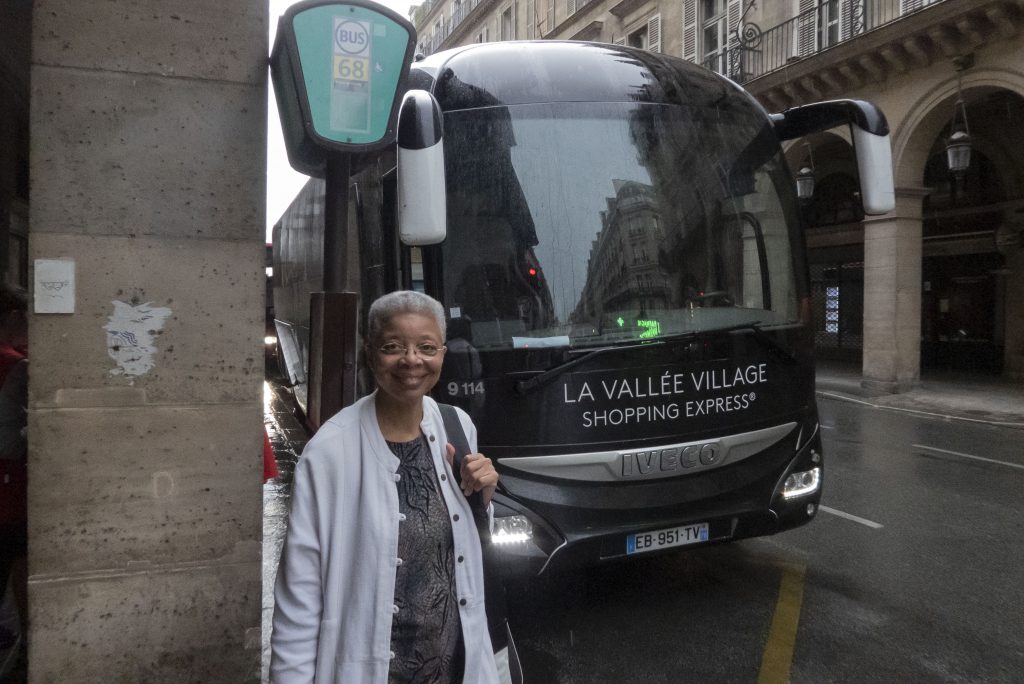 We booked round-trip passage on a shuttle bus that whisks shoppers from central Paris to the mall in about one hour. Called Paris City Vision, the bus leaves from 2 rue des Pyramides. Arriving at 9:15 a.m. for a 9:30 a.m. departure time, we saw that there was already a long line of eager shoppers, most of whom seemed to be tourists from foreign lands, waiting to board the bus. The first bus filled up and we got a front-row seat on the second that pulled up to the curb. As we boarded, we were given a voucher for our return trip.
The ride to La Vallée Village was uneventful. I remarked about how quiet the engine of the Mercedes-Benz vehicle was and how comfortable the seats were.
Stepping off the bus at La Vallée Village, we were grateful to be handed a map of the mall by a young, smartly-dressed woman who worked for the mall's welcome center. Examining the map, I saw that it was practically useless because the numbers identifying the shops were printed in non-contrasting ink on a grey background.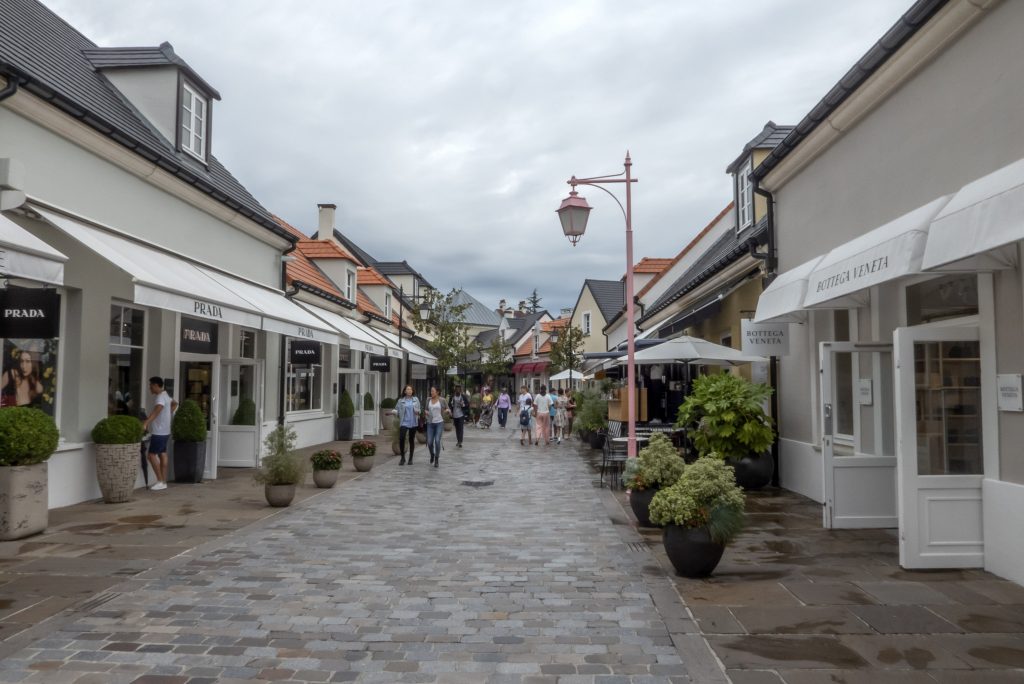 As the welcome center is located at one end of the mall, it was a simple matter to follow the walkway set with flat paving stones to explore the shops that lie on either side. Village-like in appearance, the boutiques are interspersed with an occasional shop for coffee (Starbucks), pastries (Ladurée), and other food services. Food carts are located at strategic spots along the sidewalk for additional gourmet pleasure.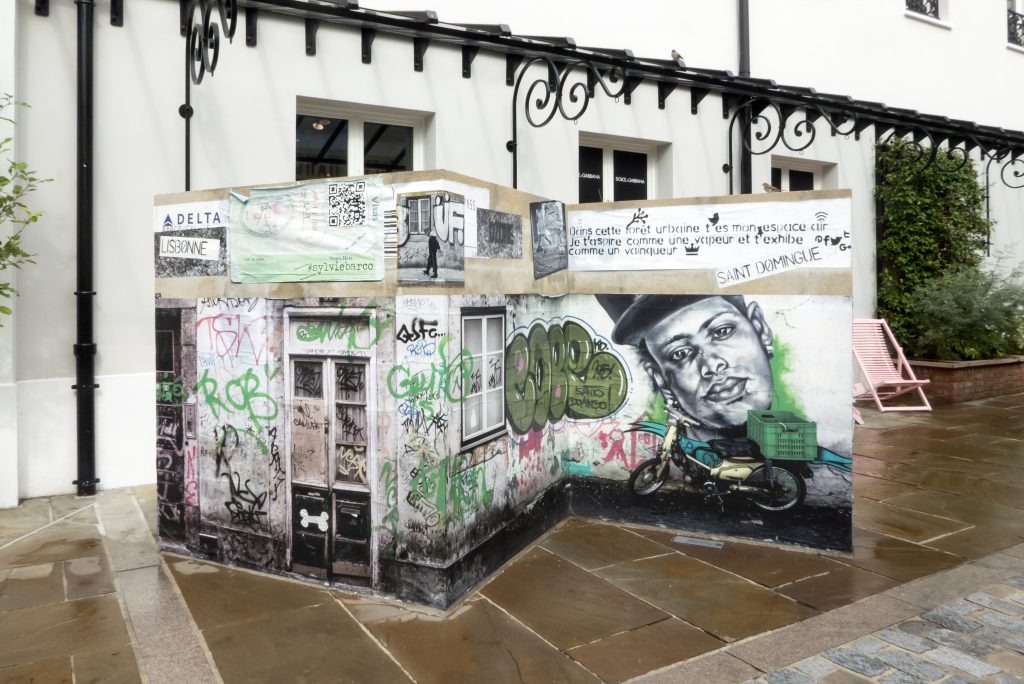 We found contemporary sculpture and art installations along the sidewalk as well and were intrigued by a small exhibition space located down a side passage where additional pieces of the artists' work were shown.
My goal was to find short- and long-sleeve shirts equipped with a breast pocket. Entering the first men's shop that I came to, I quickly learned how fruitless my quest would be. Most of the shirts that I found had no pocket at all or the pocket was small, rendering the garment completely useless for my needs.
I quickly re-purposed my mission and began looking for trousers. Error! Most of the pants that I found were tapered or otherwise form-fitting.
After considerable browsing in all the men's stores, I found and purchased two items that pleased me:
A khaki-colored pair of Polo trousers by Ralph Lauren, originally priced at 145€ selling for 99€ and a beautiful dark-grey merino wool sweater by Figaret Paris, originally priced at 165€ selling at 110€.
I saw other items that I would have purchased had they been in the color that I wanted, or, in the case of shirts, been equipped with a breast pocket:
A Timberland windbreaker originally selling for 170€ priced at 110€, a Timberland shirt originally selling for 89€ priced at 60€, and a pair of Ted Baker pants, originally selling for 115€ priced at 75€.
The best bargain that I spotted was a Dunhill shirt, originally selling for 230€ priced at 65€.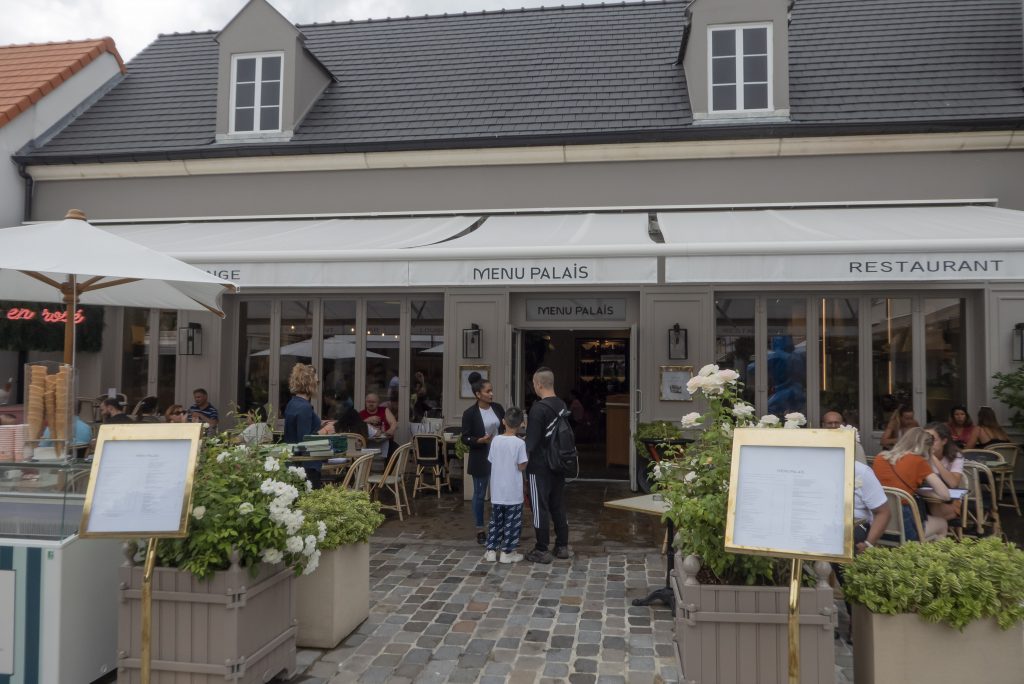 My wife and I stopped for lunch at a restaurant called Le Menu Palais where we dined on a three-course meal. We were comfortably seated in the attractive, spacious dining room and waited on by an attentive staff. Our only distractions were sparrows that flitted about the room and whooping children whose voices seemed to rise from every point in the restaurant. Otherwise, I enjoyed my breaded deep-fried fish served with mixed-green salad and my wife enjoyed her osso bucco served with tagliatelle pasta. The bill for two starters, two main courses, one dessert, two glasses of wine, and one bottle of beer came to 89.80€.
At 3:15 p.m. we walked back to the welcome center to board the bus for the return trip to Paris.
The day had been quite an experience for me. I learned that my taste in clothes was horribly out of date and that I couldn't fit into the new styles anyway. In each shop we were waited on by a gracious staff of mostly young men and women who didn't seem to mind helping an old man whose fashion sense was archaic.