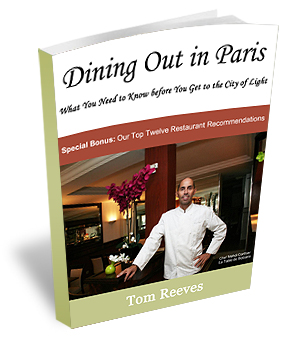 As a longtime resident in Paris, I can highly recommend Dining Out in Paris, especially for people coming for long stays. What I particularly admire is the crystal clear introduction to the different kinds of eating places one finds here, which are confusing at first as, for example, what's the difference between what one can expect a at restaurant versus a bistro versus a brasserie versus a café in terms of the look and the service and the types of food they serve, and salons de thé and bars à vin, what you can get there besides tea and wine, with some items overlapping, but some quite different. The book also explains the terms for the order of the meal, the entrée, the plat principal, and the dessert, and beyond the eateries, it gives you an excellent run-down on all kinds of shops for things to eat and drink, from fromage to vin to glace and sorbet and chocolates – the works! This is just what the subtitle says, "What you need before you get to the City of Light."
I've only had time to get to one of the eating places, the vegetarian Café Ginger, in my Bastille neighborhood. Everything was delicious and surprising, and the description in the book was right on.
Another thing I like about this book is that it has none of the usual culinary suspects, and the restaurants they recommend are located in colorful parts of Paris, mostly away from the tourist areas, and are not all are French. Half of the eateries they recommend are savory-sounding places from other parts it the world. Instead of running down a quick list, this book recommends and critiques only twelve restaurants, studying them with deep care and evident pleasure and writing about them in them with rich, enticing descriptions. I commend their approach. They love good food and know how to explain it, and with plenty of happy surprises all the way.
Bravo!
David Burke is author of Writers In Paris: Literary Lives in the City of Light.
* * * * * * *
Like our blog? Join us on
Facebook
!