On Tuesday, June 18, Elisabeth Pierre, a bièrologue whom I've blogged about before, held a beer and cheese tasting at Chez Léna et Mimile, a restaurant that I recently reviewed.
Elisabeth presented five beers paired with five cheeses. As the tasting progressed, one pair at a time, she described the qualities of each beer. A colleague, Aki Nakazawa of Fromagerie Hisada, described the cheeses and their qualities, and another colleague, Didier Sintot, co-founder of Groupuscule d'Actions Gustatives (GAG), gave his thoughts about how the flavors of each pair would harmonize.
The tasting proceeded in the following order, from the mildest beer to the strongest:
Following each pairing, we, the participants, were encouraged to express our opinions about the beer, the cheese, and how well we thought that the flavors of each pair suited one another. And at the very end of the tasting, Elisabeth called on each of us to give our opinions about which pair(s) we preferred.
Some liked the very last beer, the French stout, but to my taste it had an unpleasant flavor of bitter coffee. I preferred the first beer, which I found to be mild with only slight bitterness. I found that its flavor and that of the mild goat cheese, harmonized best and pleased me the most. This led me to wonder whether, in each paring, the flavors should be harmonious to begin with or whether they could have opposing flavors that unite into a pleasant taste sensation once they are together in the mouth. I don't have an answer to that, but it is the sort of question that professionals in the gourmet food business love to analyze and debate.
After the tasting, Elisabeth and her team of taste experts posed for a picture.
Michel Cloes, export manager of Curtius, participated in the tasting. He posed for a picture with his product, cradling it carefully in his hands like a baby!
A good time was had by all!
* * * * * * *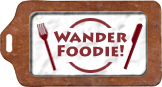 We participate in Wanderfood Wednesdays. Head over there to explore food from around the world!
* * * * * * *
Like our blog? Join us on Facebook!