We've discovered Tempero, another fine restaurant that seems to have been overlooked by Anglophone restaurant reviewers. Operated by husband and wife team Alessandra and Olivier Montagne, Tempero is located near the Bibliothèque Nationale de France in the 13th arrondissement. Read our review in this month's Le Bon Goût.
Le Bon Goût is a monthly feature of our newsletter, Paris Insights. To view a preview of the newsletter, click here.
Paris Insights is published monthly as a downloadable PDF file. It is available only to paid subscribers for an annual subscription fee of $30.
If you are not a paid subscriber and would like to download the newsletter, please click here. Enter promotional code 11473309154 to receive a $5 discount off the price of an annual subscription.
Bonne lecture!
* * * * * * *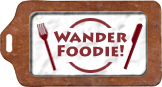 * * * * * * *
We participate in Wanderfood Wednesdays. Head over there to explore food from around the world!
Like our blog? Join us on Facebook!