I've written about the Brûlerie des Gobelins on a number of occasions, and have even made a video of Maxime, the manager, at the coffee-roasting machine.
I stopped by yesterday and noticed that he was selling a new kind of roast, called Café Oriental. Maxime gives it this name because, he says, it is the kind of roast that one finds in Turkey or Lebanon. It is a melange of Arabica coffee beans from Central America and the Antilles that has been roasted at a high temperature (230°C) for a longer period of time (25 minutes). Coffee will crack (emit a cracking sound) up to three times during the roasting process—the first crack gives a light roast, the second a medium roast, and the third a dark roast. Maxime roasts Café Oriental up to the third crack. The result is a very dark bean whose oils form on its surface, making the bean glisten. Brewed in my French press, the beans produce a taste that is unctuous, intense, and bitter.
Brûlerie des Gobelins
2, avenue des Gobelins
75005 Paris.
Telephone 01.43.31.90.13
Metro: Censier-Daubenton or Gobelins (Line 7)
* * * * * * *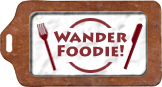 We participate in Wanderfood Wednesdays. Head over there to explore food from around the world!
Like our blog? Join us on Facebook!