Sorry to break this to you guys, but beer isn't just a guy thing anymore. Nor has it been for quite some time!
Meet Elisabeth Pierre, bièrologue, a French woman who is an expert on beer, and more specifically, artisanal beer. We had the occasion to meet her at Qui Plume la Lune restaurant in Paris where we asked her to talk about her career while we captured it on video. In the video, she talks about how she first became interested in beer, what she does as a beer expert, some of the top chefs with whom she has collaborated, and the history of beer brewing in France.
Pour yourself some suds, sit back, and enjoy the video!
* * * * * * *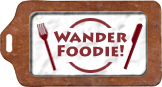 We participate in Wanderfood Wednesdays. Head over there to explore food from around the world!
* * * * * * *
Like our blog? Join us on Facebook!