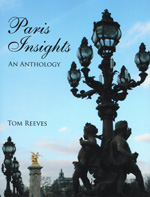 Wandering Educators, "a global community of informed, engaged educators who share their travel experiences, explore their fellow wandering educators' travel experiences, and dialogue about international education and travel," has just published a review of my book Paris Insights – An Anthology. The editor of the Web site, Jessie Voigts, also asked me some pertinent questions about my reasons for writing the book.
Thank you, Wandering Educators, for the great review!
Paris Insights – An Anthology will make a fine Christmas gift for the traveler who is planning a visit to Paris, or the armchair traveler who simply wants to learn what makes the city such a fascinating place!