Pastry-maker Gerard Mulot was born and raised in the Lorraine, a region in eastern France. He first tasted a buttery-rich kouglof, a specialty of that region and of Eastern Europe, when he was ten years old. Years later, when he became a baker, he vowed to create kouglofs with the same rich taste that he experienced at that moment in his childhood.
We purchased the brioche-like cake from his bakery on rue de Seine and took it home to taste. It had a golden-brown, soft crust and a yellow, bread-like interior. We found the cake to be buttery, but slightly dry (as brioches tend to be). The dryness was compensated by moist, delicately-sweetened raisins incorporated in the crumb. We ate the kouglof for dessert, but it would make a great pastry to serve with 4 o'clock tea.
Gerard Mulot
76, rue de Seine
75006 Paris
Telephone: 01.43.26.85.77
* * * * * * *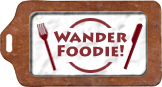 * * * * * * *
We participate in Wanderfood Wednesdays. Head over there to explore food from around the world!
Like our blog? Join us on Facebook!