Two young entrepreneurs, Jacques Ferté and Guillaume Roy, have recently relaunched Gallia, a beer that was originally brewed in Paris from 1879 to 1968.
I had the occasion to taste the beer at the last Tweet-up, held on Friday, March 25 at Creposuk, a crêperie located on rue Galande in Paris' 5th arrondissement.
I did not find the flavor of the beer particularly distinctive compared to other blond beers that I have tasted. However, I find the idea of drinking a beer associated with the history and traditions of Paris appealing.
Now brewed in the Czech Republic according to the traditions of Pilsner beers (the use of bottom-fermenting yeasts that produce a pale beer with a prominent flavor and aroma of hops), Gallia is available at numerous bars, restaurants, grocery stores, and wine shops in Paris.
* * * * * * *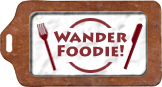 We participate in Wanderfood Wednesdays. Head over there to explore food from around the world!
Like our blog? Join us on Facebook!