The company Méo was founded in 1928 by two brothers from Belgium—Jules and Emile Méauxsoone—who opened a grocery store in Lille (France). They began importing coffee and expanding their grocery business, opening more stores in the Lille region. By 1945 they had established a brand name for their coffee, which they called Méo.
Their first coffee boutique in Paris was opened in 1954 on rue Saint-Lazare. Recently I had the occasion to stop there and purchase 250gms of Java Lintung Aurore whole-bean coffee. While there, I also purchased an espresso made from the same coffee. When I tasted it, I found that it had a surprising peppery flavor, followed by a fruity taste. Both of these sensations were pleasurable. Later, when I took the beans home and brewed them in my French press, I experienced the same flavors. I look forward to the time when I will again be in the Sant-Lazare neighborhood so that I can purchase another batch.
I was curious about the origins of the coffee and searched for Lintung on a map of Java, one of the islands of Indonesia. I was not able to find it there, but learned that Lintung (or Lintong) is a region of Sumatra, another island of Indonesia located not far from Java. Wanting to learn more, I called Méo and was able to reach Gérard Méauxsoone, CEO of the company and son of one of the founders. Mr. Méauxsoone explained to me that although the coffee is named Java Lintung, it actually comes from the Lintung region of Sumatra. This would explain why the receipt that I obtained when I purchased the coffee bore the words "Java Lintung Sumatra."
The Saint-Lazare shop serves espresso made from a variety of coffee beans, including Blue Mountain (1.55€/cup), Zimbabwe (1.25€/cup), and other coffees (1.10€/cup) such as Moka Sidamo, Santos, and Costa Rica. These are good prices for a cup of espresso, and they permit a coffee aficionado to taste the brew while standing at the counter before buying the beans. The sales staff in the store is friendly, and although they could not answer my questions about the coffee that I purchased, they kindly gave me the names of contacts at the company whom I could call for information.
Watch a brief video (in French) about coffee selection, coffee roasting, and the company's commitment to quality at the following link: http://www.youtube.com/embed/QDlZp7Fj7W0.
* * * * * * *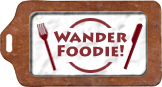 We participate in Wanderfood Wednesdays. Head over there to explore food from around the world!
Like our blog? Join us on Facebook!
Tags: single-origin coffee