Today I was happy to see that our local baker, Le Fournil de Mouffetard, was open on a holiday. (May 8 is Victory in Europe Day, celebrating the end of World War II.)
I purchased a tarte aux fraises, took it home, and photographed the box.
Inside the box, the strawberry tart looked luscious!
It looked even better after I removed it and put it on the table.
And better still in a close-up photograph!
I cut it, put it on a plate, and it was ready to eat. Scrumptious!
* * * * * * *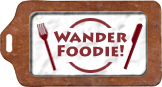 * * * * * * *
We participate in Wanderfood Wednesdays. Head over there to explore food from around the world!
Like our blog? Join us on Facebook!