A few weeks ago I ventured by a bakery located on rue Gay Lussac near the Luxembourg Garden. Through their shop window, I saw their brand of guimauve, a marshmallow confection. (They proudly call their product "La Fameuse Guimauve de Paris" and they make it on the premises.) It comes in several flavors and can be purchased in rectangular prisms or, as I did, in die-shaped blocks skewered on a stick. They come in vivid colors that correspond to their flavors.
I stopped by today and purchased a skewer of five flavors and took it home to try.
The white guimauve was coconut, and it had an intense flavor. As I bit into it I could taste shredded coconut, making this the most textured sweet of the five that I tasted.
The green-colored guimauve was pistachio. Its flavor was not as intense as the first, but it was nonetheless convincing.
The red-colored guimauve was coquelicot, or poppy. Although I enjoyed this flavor, I couldn't associate it with the taste of the poppy-seed strudels (called pavé aux graines de pavot) that I buy from time to time from the East European bakery shops on rue des Rosiers in the Marais.
The café-colored guimauve was a fairly strong espresso-flavored treat.
Finally, the dark brown guimauve had a hearty chocolate flavor, like fudge.
All five of these confections were fun to eat. They were moist, sticky, slightly gooey, stretchy, and spongy. This is a great treat for those who want to recall the childhood joy of opening a bag of Kraft marshmallows and eating them all at once!
Piccadis
8, rue Gay Lussac
75005 Paris
Tel.: 01.43.54.31.69
Open Mon to Fri 7:15 a.m. – 8:00 p.m. Sat 8:00 a.m. – 7:45 p.m.
* * * * * * *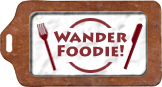 * * * * * * *
We participate in Wanderfood Wednesdays. Head over there to explore food from around the world!
Like our blog? Join us on Facebook!