I attended the Paris Cookbook Fair last Thursday. For me, the fun took place at the food and beverage stands and the cooking demonstrations.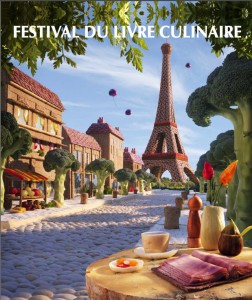 The company Gourmet Patagonia held a presentation of its award-winning cookbook Patagonia Cuisine, winner of the best culinary book of the year. The award was given by the Gourmand World Cookbook Awards at a ceremony that was held at the Théâtre des Folies Bergère on March 6.
The speakers, Rodrigo Durand Cerda and Francisco Fantini Jarpa, talked lovingly of the Patagonia region of South America, where one can find crystal-clear waters and pristine mountains…and fine cuisine.
After their presentation they distributed samples of Kunstmann beer, a beer that is brewed by descendants of a German family that settled in Valdivia, Chile in the 19th century. I liked the dark-brown beer that they served. It had a nice malty flavor with no bitter aftertaste. They also served a white beer and a blueberry-flavored beer. Both were quite refreshing.
The people at Kunstmann throw a big Bierfest every year at which time a King and Queen of Beer are crowned. To be crowned King one must be able to drink a liter of beer more quickly that the other contestants. Congratulates go out to Andres Hettish, crowned King for the last four years in a row. He can drink a liter of beer in four seconds! I'll drink to that!
* * * * * * *
Like our blog? Join us on Facebook!