Where do you go in Paris when you find yourself yearning for a pastel de nata, the delicious custard pastry from Portugal? Why, to a butcher shop, of course!
Madame Gosnet of Boucherie Pascal Gosnet sells these pastries at her counter at 119, rue Mouffetard in the 5th arrondissement. We purchased two and took them home to taste.
The pastry has a golden-brown, flaky crust and an unevenly browned egg-yolk-yellow top covering a pale-yellow custard filling. The crust is chewy. (It is difficult to cut with a knife—better to eat it by hand.) The custard is mildly sweet, moderately dense, and slightly grainy. In a word, they taste just like the pastéis de nata that we had in a coffee shop in Lisbon many years ago. Served warm, they are delectable!
* * * * * * *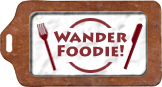 * * * * * * *
We participate in Wanderfood Wednesdays. Head over there to explore food from around the world!
Like our blog? Join us on Facebook!