One of the advantages of blogging about chocolate tastings is that one meets people who invite you to…more chocolate tastings!
It was at the hot chocolate demonstration at Mococha where I met Sabine Malet, secretary of the chocolate appreciation club Les Amants du Chocolat de la Couronne Parisienne. Sabine told me about her club's tasting that would feature the chocolate of Laurence Dali, who operates O Mille et une Fèves in the 20th arrondissement of Paris. Naturally, I wanted to be part of that.
The tasting was held at an organic restaurant called La Petite Fabrique at 15, rue des Vignoles, not too far from Laurence's shop. About fifteen people were in attendance and all were in a jovial mood. Laurence set the tone by distributing bars of Santo Domingo 70% Criollo chocolate, one of the finest chocolates available. She supplied enough to taste to our hearts' content while she talked about how she quit her desk job at the age of 40 to plunge into the world of chocolate making. After taking a two-year program at the prestigious Grégoire Ferrandi cooking school in Paris, she opened her own boutique. And the rest is history!
Laurence makes fruit, spice, and nut-coated chocolate bars, molded chocolates, chocolate-dipped candied fruit, chocolate-dipped dried fruit, and pralines. She doesn't, however, make cream-filled chocolates (ganaches). She uses 64% cocoa as the base of her chocolate bars (except the Criollo). During the tasting, she distributed many different samples of all of these varieties — one at a time.
I enjoyed the chocolate-dipped candied ginger. It yielded softly to the bite.
The Espelette-dusted chocolate bar had a spicy sting, while the crumbled Speculoos top of another bar provided crunchy, caramelized counterpoint to the chocolate. The chocolate-dipped candied orange peel came through with full orange flavor, while the covering of the chocolate-dipped dried fig overwhelmed the flavor of the fig.
There was much more to taste. It was a chocolate lover's dream!
At the end of the tasting it was time for dinner. The waitress, Virginie, took our orders and we tucked into a delicious vegetarian meal.
A good time was had by all!
* * * * * * *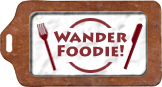 * * * * * * *
We participate in Wanderfood Wednesdays. Head over there to explore food from around the world!
Like our blog? Join us on Facebook!