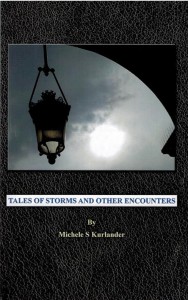 Tales of Storms and Other Encounters is a stimulating book of short stories by Michele S. Kurlander. Kurlander is a Francophile like few others I've met. She frequently writes articles about her experiences in Paris and has included two stories about the city in Tales of Storms, which is her first book.
In "Notre Dame," the young protagonist Angela seeks redemption within the cathedral whose "two muscular arms reached up into the sky" and whose "faceted circle of stone rested in its forehead like a third eye." All the helplessness and confusion that Angela feels are evoked in Kurlander's description of the cold, wet city that she encounters as she searches for the church and again when she is caught in a downpour after running from it with money that she has stolen from a coin box. Derek, the cause of her distress, has brought her to the City of Light and she thinks that she has escaped him. But fate has something different in mind…
"The Bridge" is the story of a married woman who was caught in a rainstorm and "saved" from an old beggar woman on the Pont des Arts by a handsome Frenchman. We find her writing a letter to her husband Bill about her experience of that day – without mention of the Frenchman, of course. Her narrative includes many common threads in American observations about Paris – the small size of her very expensive hotel room, the propensity for the sky to cloud over at a moment's notice, the feeling of being a "real world traveler…"
Kurlander paints the scene at the bridge so vividly that those who know Paris will be able to see it unfold as though they were watching it on television or at the cinema. The city's role in the story is as intimate as the romantic encounter between the woman and the Frenchman. His name is Jean-Pierre. We never learn the identity of the woman.
There are eight additional stories in Tales of Storms and Other Encounters, many of which are set in Kurlander's home town of Chicago. I enjoyed them all! As the press release about the book states, "Not everything goes as you expect it to. You may be surprised – or shocked. You won't be bored."
Tales of Storms and Other Encounters is available at:
Shakespeare and Company, 37 rue Bûcherie, 75005 Paris, telephone: 01.43.25.40.93
Sandmeyer's Bookstore, 714 South Dearborn Street, Chicago, IL 60605, telephone:
(312) 922-2104
From the author: lawmichele [at] aol [dot] com.
* * * * * * *
Like our blog? Join us on Facebook!