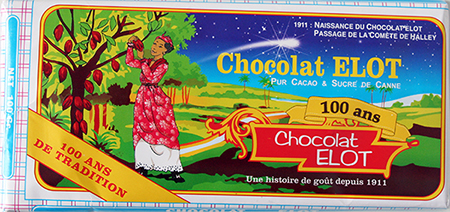 At the recent Salon International d'Agriculture, I acquired a 100g bar of chocolate, called Chocolat Elot, that is manufactured in Martinique. Containing a minimum of 42% cocoa, the bar is made from cocoa from Martinique and Trinidad, vanilla, and cane sugar.
Dark-brown in color, the bar has a dull-luster finish and a pleasant sweet-chocolate aroma. It does not melt quickly in the mouth, but rather provides firm resistance to the bite. Its texture is grainy, like fine sand. As for its flavor, it is sweet, intense, and earthy. This is an enjoyable chocolate bar to eat, especially if one has a preference for sweet, rather than bitter-sweet, chocolate.
Special thanks to Janick Ancete, chef of La Kaz' à Crêpes, for providing this chocolate bar.
* * * * * * *
Like our blog? Join us on
Facebook
!