When we stepped into the Ladurée shop at the Carrousel du Louvre recently, we couldn't resist buying a couple of their confections—they looked so appetizing! We took home a Corolle Feuilletée Caramel and a Tarte Citron.
The Corolle Feuilletée Caramel consists of sticky-sweet caramel in a buttery pâte feuilleté (flaky pastry) shell covered with a caramel-flavored, whipped-egg-white confection. This is a treat for confirmed caramel fans only…as we are!
The Tarte Citron is a smooth, lemon-pie filling in a crunchy pâte sablé (shortbread) crust. We both found that the filling lacked the zing that we hope for when we bite into in a lemon tart. Lemon tarts shouldn't have mild flavor—they should have the pucker power of lemon zest!
In spite of the disappointment, we were pleased to learn that a Ladurée pastry shop is located so conveniently to the Louvre.
* * * * * * *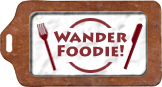 * * * * * * *
We participate in Wanderfood Wednesdays. Head over there to explore food from around the world!
Like our blog? Join us on Facebook!