Elisabeth Pierre (whom I've blogged about before) held a beer and chocolate tasting on Valentine's Day and we were there!
The tasting was held at a beer shop called La Moustache Blanche. In case you don't know what a moustache blanche is, here is a picture of the owner, Guillaume, proudly displaying his:
We tasted many different beers paired with white, milk, and dark chocolates. Below is a photograph of the beers that we tasted.
And below is a photograph of an Italian beer called 32 Tre+Due that you have to open first with a bottle opener, then with a corkscrew.
Here is a picture of the table set for the tasting. Note that the mustache emblem of the beer shop is prominently displayed in the background. It almost looks as if the Esquire Magazine man is benevolently watching over the event.
We were supplied rating sheets for our tasting notes.
And we tasted…
And tasted…
And sniffed to capture the aromas of the brews…
And the verdict? I enjoyed most of the beers, including one that Matthieu identified as having an aroma of crème de rose. He named that right away while I was struggling to describe it.
For the most part, I didn't care for the taste of chocolate with beer. I prefer beer as a refreshing beverage by itself or served with African, Indian, or other spicy food. I did, however, find that 32 Atra, a brown beer made with roasted barley, went well with dark chocolate.
For Monique, the beer-chocolate pairing event got her sit down and taste a variety of beers for the first time in her life. And we'll drink (in moderation) to that!
* * * * * * *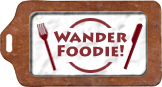 We participate in Wanderfood Wednesdays. Head over there to explore food from around the world!
* * * * * * *
Like our blog? Join us on Facebook!