About two weeks ago I received an invitation to a cider tasting from Bruno Quenioux (whom I've written about before). I hurried over to his wine shop and met Cyril Zangs, a producer of hard cider in Normandy. I say "hard" cider, because it has an alcoholic content of 5.5%. In the United States, the beverage called cider is usually no more than apple juice. Cyril's cider undergoes primary fermentation in vats, and then secondary fermentation in bottles.
I tasted his Cider 2011, but couldn't immediately identify the principal flavor. Cyril called it "smoky," and said that the flavor is due to bitter apple that he includes in the batch. (The flavors of the apples that he harvests can be classified as sweet, bitter-sweet, bitter, tart, and sour.)
I purchased a bottle and took it home for a more focused taste test. After chilling the bottle in the refrigerator, Monique and I sat down to taste the cider and to determine what that "smoky" flavor actually was. We finally decided that the flavor is more accurately described as "leathery." (Monique used the term "horse-y.") The cider has a strong "welcome to the farm" flavor that is far different from the flavor of the sweet, industrially-produced apple juice that most people buy at the supermarket.
I would purchase this cider again because it has unmistakable character. I think that it might go well with certain strong cheeses.
Cyril Zangs' cider is sold in Bruno Quenioux's wine shop:
Boutique Philovino
33, rue Claude Bernard 75005 PARIS
Open from Tuesday to Saturday
10:00 a.m. to 1:00 p.m. and 3:00 p.m. to 8:00 p.m.
* * * * * * *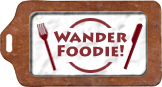 * * * * * * *
We participate in Wanderfood Wednesdays. Head over there to explore food from around the world!
Like our blog? Join us on Facebook!