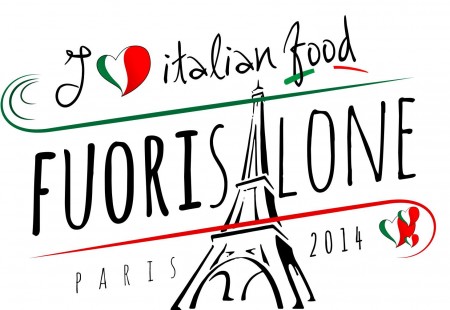 Monique and I got an invitation to attend the I Love Italian Food festival last week. It was held at the Showroom Poliform Varenna on rue du Bac in the 7th arrondissement. What a great celebration it was!
We met a number of Paris bloggers there, including Mary Kay Bossart of Out and About in Paris.
We got there just a bit early. While we waited for the food stands to open, we sipped a bit of bubbly called Ferrari Maximum Trento DOC. Ferrari is a sparkling wine produced in Trentino, Italy. It's not a prosecco—it's produced according to traditional champagne methods, including second fermentation in the bottle. I enjoyed its dry, elegant flavor as much as any champagne that I have ever tasted.
Finally, the food stands opened and we went upstairs to sample a wide variety of Italian fare. I tried a couple of delicious open-faced sandwiches.
Parmesan cheese had been cut from the wheel in large chunks. This was the first time ever that I have been able to sample as much as I wanted—it was almost like being in a dream. I enjoyed its sharp, almost pungent, flavor and its gritty texture.
Moving from one stand to the next, I tried several slices of Beretta brand Mortadella. I must have been in heaven, because nobody stopped me from taking as much as I wanted—for how long could this dream last?
The man at the sausage stand just kept that slicing machine a-whirring.
Michele Fanciullo, who works as a personal chef in Paris, prepared some wonderful pasta dishes. One of them was flavored with truffle.
On the lower level, where the wine stand was set up, Monique got a glass of Nebbiolo D'Alba red from the Piedmont region of Italy.
Returning upstairs, we went to see some food demonstrations. Bartender Stephane Durot (of Franco-Italian origin) demonstrated how to make the Spritz Lambrusco, a drink that he invented one day when he ran out of prosecco. His clients appreciated it so much that it became known as the Spritz Stefi (Stefi is short for Stephane).
Olga Urbani, fourth generation family member of Urbani Truffles, gave a presentation on truffles.
Rosanna Di Michele of Cooking with Rosanna demonstrated how to make a pasta dish.
There were other specialists giving demonstrations, but we were not able to attend them all.
Thanks to all of the people who worked hard to produce the fabulous I Love Italian Food festival. And yes, I do love Italian food!
* * * * * * *
Like our blog? Join us on
Facebook
!