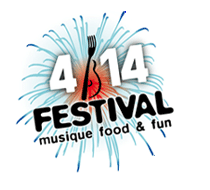 I am pleased to announce that I have been named the official blogger for the second annual 4-14 Festival, to be held in Dijon on July 9-11, 2010. The festival brings together American and French musicians and chefs to celebrate friendship, food, music…and fun! Last year, 15,000 people turned out for the festivities!
Twenty-five chefs from both sides of the Atlantic will work their culinary magic for the festival. This year, American chefs from New Orleans and other Louisiana towns (and one from Washington, D.C.) will be participating in the event. They include Louisiana native Dooky Chase IV of the legendary Dooky Chase restaurant. The restaurant was devastated by Hurricane Katrina, but has risen from the flood waters to continue its 60+-year tradition of service. Among the French chefs, Michelin-starred Marc Meneau of the inimitable l'Esperance, and Daniel Ginsberg of the Nouvelle Cuisine de la Ville de Dijon will participate alongside nine additional Burgundian masters of cuisine.
I have been writing about food for Discover Paris! since October 2006, when I launched my "Quest for Smoke-Free Dining" review for the Paris Insights monthly newsletter. After smoking was banned in restaurants in France in January 2008, I launched "Le Bon Goût," a monthly restaurant review for which I interview the chef. The review is found in my Paris Insights newsletter, available by paid subscription. I now publish a free weekly restaurant review for the Paris Insights Web site as well. I share my passion for coffee and chocolate by frequently posting anecdotes to my Paris Insights blog and Facebook page about the fresh-roasted coffee beans and hand-crafted chocolates that I find at the many coffee-roasting facilities and artisanal chocolate shops in the French capital.
Click here to access my blog about the 4-14 Festival. Click here to access my free weekly restaurant review.