The Festival du Livre Culinaire was held from February 22 – 24 this year at the Carrousel du Louvre. While there I had the opportunity to visit the Husmansbord stand. The folks there had lots of Swedish food on display, and I got a chance to taste some. What a treat!
The first product was a soft drink called Fläder, which means "elder" in English. Sweet and refreshing, it was a carbonated elderflower beverage that tasted somewhat like lychee and pear.
I was given a jar of hjortronsylt (cloudberry jam) to take home and try. The jam had a golden color and contained lots of seeds and cloudberry pulp. It was intensely sweet and tasted mild like honey from the flowers of a meadow. I tried it with Scottish oatcakes and Minimunk cheese (described below) and found that it went well with both.
And speaking of Minimunk cheese, I was given a portion to take home to try. This cheese has been produced from cow's milk from farms within a 2 1/2 mile radius of the dairy. Aged at least 22 months, it contains 31% fat. The producer claims that it is a powerful cheese with fully-developed flavor, but having tasted French cheeses whose odors almost knocked me backward, I judged it to be fairly mild. Its taste was buttery and tangy at the same time. When I cut into it, it crumbled and flaked. I enjoyed it with cloudberry jam and also tried it with Majsknäcke (described below).
Majsknäcke means corn crispbread in Swedish. These were very dry rounds of wholegrain corn and wheat flour that had been baked in a wood-fired oven. They had lots of crunch. I could taste the corn, but it wasn't predominant. The crackers make an excellent accompaniment to the Minimunk and provide a crunchy counterpoint to the soft cheese.
Affären, a Swedish food store in Paris sells a wide variety of Swedish specialties, although they may not have these specific products. Call them to inquire!
* * * * * * *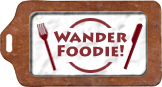 We participate in Wanderfood Wednesdays. Head over there to explore food from around the world!
* * * * * * *
Like our blog? Join us on Facebook!