Last week, while walking along rue Jacob reviewing our latest Chocolate and Pastry walk, we spotted a sign indicating that an épicerie fine (fine-foods grocery) was located in the courtyard of a building at number 12. Our curiosity piqued, we entered the courtyard and then into a tiny shop situated there. Smelling sweetly of spices, it was well stocked with fine-food products.
The young man behind the counter invited us to taste a condiment called Figues en Folies, which, he said, would go well with goat cheese or foie gras. It had the sharp flavor of balsamic vinegar, fig, and spices, and called to mind the taste of mincemeat pie. Even though it cost 10€ for a small jar of 220 grams, we threw caution to the wind and purchased it.
Back home we tried it with various products, including crottin de Chavignol, a goat cheese that we purchased at our local cheese shop, Fromagerie Veron, on rue Mouffetard.
We found that the acidic flavor of the vinegar in the fig condiment complemented the pungency of the soft, crumbly goat cheese, while the fig's sweetness counterbalanced it. Spread on dark bread in the style of an open-faced sandwich, the goat-cheese-and-fig combination was a country-style delight.
Tomat's Epicerie Fine
12, rue Jacob
75006 Paris
Tel.: 01.44.07.36.58
Open Tuesday to Saturday from 11:00 a.m. to 1:30 p.m. and from 2:30 p.m. to 7:00 p.m.
* * * * * * *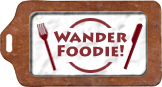 * * * * * * *
We participate in Wanderfood Wednesdays. Head over there to explore food from around the world!
Like our blog? Join us on Facebook!