On Thursday, April 18, I attended a chocolate and spirits tasting organized by Marie-Hélène Gantois of Mococha Chocolats on rue Mouffetard. She invited Alexandre Billon of La Fontaine aux Vins (107, rue Mouffetard) to present three spirits in association with three of Marie's chocolates.
LeRoch V.S.O.P. cognac, a blend of three Petite Champagne cognacs, was selected for the first pairing. I learned that Petite Champagne is a geographic zone of the area around the town of Cognac, where wines destined for cognac production are grown. Marie paired this spirit with a praliné au sarrasin grillé by chocolate maker Jacques Bellanger. When I first tasted the praliné, I thought that it was made from roasted peanuts, but it's not, it's made from toasted buckwheat. The light flavor of buckwheat went well with the light and delicate flavor of the cognac. A good match!
The second liquor was Karukera rum from Guadeloupe. Alexandre explained that rum from this island does not have an AOC certification (controlled designation of origin) as does rum from nearby Martinique. The principal reason for this is that producers have to adhere to certain standards to receive the AOC certification, and the Guadeloupean producers choose not to. The rum was paired with Furie ganache jus et zeste de citron vert by Fabrice Gillotte. It was a clever idea to pair the rum with a ganache containing zest and juice of lime, because rum is often served with this fruit. Again, a nice pairing!
The third alcohol was Glenfarclas Highland Single Malt Scotch Whisky. This whisky, aged 12 years, had only a hint of peat. Its slightly sweet flavor went well with the Fabrice Gillotte chocolate flavored with fève de tonka, a bean that tastes faintly like clove.
The chocolate and spirits tasting was a great success. A good time was had by all!
* * * * * * *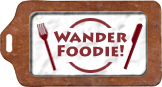 * * * * * * *
We participate in Wanderfood Wednesdays. Head over there to explore food from around the world!
Like our blog? Join us on Facebook!