Last week, I had the pleasure of meeting Michael D. Poole, firehouse chef from Seattle. He's in Paris honing his skills on macarons, one of the products that he sells alongside his French chocolates back on the West coast.
Michael has been coming to Paris for a few weeks every year since 2000. He first came to study basic cooking at the Cordon Bleu and continued at that school year after year until he received the Grand Diplôme in 2003. He returns every summer to work with chocolate and pastry makers, learning new techniques and reviewing old ones. He has applied his skills to chocolate making and now sells French chocolates at six different retail outlets in Seattle, as well as on his Web site.
He recently began offering macarons at a couple of the retail outlets, hence his current interest in perfecting his macaron-making skills. This summer he is working at Pâtisserie Chocolaterie Pascal Pinaud on rue Monge, where he has learned to get the consistency he was seeking in his macaron batter (which consists of egg white, almond powder, and powdered sugar). He wanted his macaron shell to be a little bit firmer than what he's been producing until now. Michael is a perfectionist in his craft and doesn't stop until he gets it just right. Not that any of his customers back in Seattle were complaining, mind you!
Back in Seattle, Michael offers four different flavors of macaron to his customers: lemon, pistachio, coffee, and chocolate. He will soon add a fifth, orange. Hence, I purchased these five flavors, all of which he had made at Pâtisserie Chocolaterie Pascal Pinaud using Mr. Pinaud's recipe. I took them home to try. Here are our tasting notes:
Lemon – mild, sweet lemon flavor
Pistachio – the almond in the macaron is more pronounced than the mild flavor of the pistachio.
Coffee – thick, creamy filling; relatively thin lower macaron shell.
Chocolate – this macaron felt heavy in the hand due to the density of the flavorful chocolate cream.
Orange – this was our favorite. A strong orange taste that reminded me of the Dreamsicle of my youth. My partner declared that it tasted like candied orange.

All of the macarons had light but firm shells, which allowed us to pick them up without crushing the delicate crust. When bitten into, they were chewy. They all had a creamy filling.

We think that Michael's customers in Seattle will be pleased with the new orange flavor that he plans to introduce!

Check out Michael's Web site!

And if you are in Paris, stop by Pâtisserie Chocolaterie Pascal Pinaud to try any of their nineteen different macaron flavors:
70, rue Monge
Tel.: 01.43.31.40.66

Metro: Place Monge (Line 7)

* * * * * * *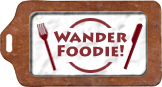 * * * * * * *
We participate in Wanderfood Wednesdays. Head over there to explore food from around the world!
Like our blog? Join us on Facebook!