I don't know who permitted the construction of the spanking-new high-tech office building that now stands at the corner of rue du Cardinal Lemoine and rue Jussieu. It's an example of the creeping modernism that has destroyed the old-fashioned charm for which Paris was once admired. (I wrote about this blight in the November 2012 issue of our newsletter Paris Insights.)
In any event, there is a new store on the ground floor called Bü that sells all sorts of useful products, including stationery, luggage, tableware, kitchenware, linen, toys lamps, vases, scented candles, and more! I stopped by to take a look and was impressed to find that it is a pleasant store to shop in. But what impressed me most of all was the caramel corn that they were selling for only 1.60€ for a 200 gram bag. I purchased a bag and took it home to try.
This is industrially-produced caramel corn, but nevertheless I enjoyed it. The popped corn are large, about 3/4″ in diameter. The caramel coating has the aroma of vanilla and tastes like caramel, but doesn't quite have the intensity of deeply-caramelized sugar that I had hoped for. The coating isn't too sticky, so the popped corn doesn't stick together. It can be eaten on a day on which the temperature rises to 91°F without any overly sticky syrup transferring to the fingers. I know, because I tried it. I was able to pop the delicious treat in my mouth and then type out my impressions on a computer keyboard without fear of leaving caramel syrup on the keys. This is living at its best!
Bü
45, rue Jussieu
75005 Paris
Tel.: 01.40.56.33.22
Open from Monday to Saturday from 10:30 a.m. to 7:30 p.m.
* * * * * * *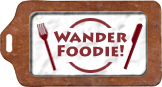 * * * * * * *
We participate in Wanderfood Wednesdays. Head over there to explore food from around the world!
Like our blog? Join us on Facebook!