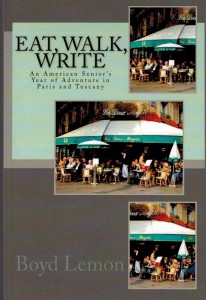 Many of us dream of leaving all behind and traveling to a distant land to experience first-hand another culture, to engage with its people, and to learn another language.
Boyd Lemon had precisely that goal in mind when he retired from the legal profession at the age of 69 and set off for Paris, where he planned to live for two years. He made careful plans, but when he arrived in the City of Light he quickly discovered that things did not quite work out the way he had hoped.
The account of Lemon's experiences in Paris unfolds as a richly-detailed travelogue giving fascinating insight into how a person's mind works when faced with decisions that must be made when things go wrong. For example, Lemon evokes our sympathy with his description of the frustration that he felt when he realized that learning French was going to be a far more daunting task than he had ever imagined. He draws us in further as he recounts how his expectation to gain fluency progressively declined and how he realized that he could still enjoy living in Paris and learn from his many experiences there without being fluent in the language.
Lemon's penultimate chapter entitled "Final Thoughts about Paris" provides helpful insight on the financial cost of moving there for a long-term stay.
Eat, Walk, Write would have benefited from a careful review by a professional editor, as there are numerous spelling errors (both in English and French) as well as occasional inadequate transitions from one paragraph to another. However, these oversights do not reduce the enjoyment of the book.
Readers thinking of traveling to Paris, whether for a few days or for a long stay, will benefit from reading this book. On the one hand, they will be inspired by Lemon's descriptions of the city, the restaurants that he dined in, the food that he ate, the museums that he visited, and the walks that he took. On the other, Eat, Walk, Write serves as a warning to those who think that they will learn the language rather quickly once they get there.
* * * * * * *
Like our blog? Join us on Facebook!