I attended the Paris Cookbook Fair today. For me, the fun took place at the food and beverage stands and the cooking demonstrations.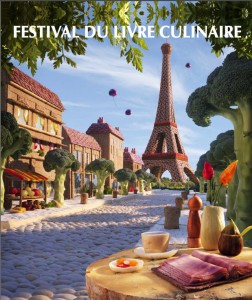 I saw Virginia Willis, a chef from Atlanta, Georgia, give a cooking demonstration on how to make a dish of shrimp and grits. Her latest cookbook is called Back to Basics, Y'All.
I met cook, writer, instructor, and food geek Vivian Pei.
I met award-winning authors Karen Page and Andrew Dornenburg, whose latest book is called Food Lover's Guide to Wine.
And I purchased a kilo of coffee beans roasted in Sardinia from Amerigo Murgia, whose company Tradizione Italiana supplies kitchen equipment, espresso machines, and Italian-roast coffee beans to restaurants in the city.
Tomorrow I will write about other people whom I met and reveal the amazing technique for making Bad Piggies' Scrambled Eggs.
The Paris Cookbook Fair will run through Sunday, March 11.
* * * * * * *
Like our blog? Join us on Facebook!