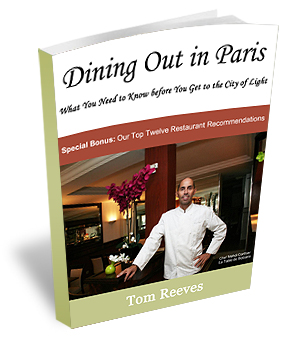 My Thoughts on Dining Out in Paris
As a frequent traveler to Paris, I have amassed an extensive collection of dining guides, some helpful and some not so much, but the majority of which basically cover the same restaurants in the most visited parts of town without offering much else to the reader.
Longtime Paris resident and writer Tom Reeves offers so much more in his book, Dining Out in Paris. His guide is as straightforward as it gets, a must for the first-time traveler to Paris. Loaded throughout with French restaurant vocabulary and their translations, he demystifies much of the Paris dining experience. Not sure about the difference between a bistro and brasserie? What about those confusing menu combinations of entree, plat, and dessert? Tom explains it all.
Refreshingly, he eschews the usual, over-reported latest places for 12 lesser-known restaurants scattered about the City of Light. His thorough reviews include interviews with chefs and owners, who are often one-in-the-same, giving the reader a personal perspective of each location. And not all of his choices are French! He covers Moroccan, fusion, vegan, and more.
Be sure to read this informative guide before your next trip to Paris.
Bon appétit!
Katie Schwausch
Le Cordon Bleu Paris culinary student
www.frenchcravings.com
* * * * * * *
Like our blog? Join us on
Facebook
!