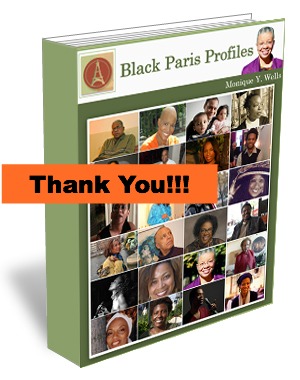 The Black Paris Profiles Kindle giveaway is history! We went immediately to Number 1 on the Top 100 Free list on Amazon.com and stayed there throughout the three-day giveaway. We couldn't have done this without your support and I want to say
THANK YOU!
Because of the tremendous support that we've received, we have decided to continue to provide access to the bonus gift that we offered during the Thanksgiving Day weekend promotion. It's an exclusive video that we created for Entrée to Black Paris clients. Called "Images of Contemporary Black Paris," it is a $49.99 value and contains 100 images of sites and scenes of Black Paris that you won't find anywhere else! It will be available through Christmas Day.
Access to the video is yours for free when you order your copy of Black Paris Profiles ($9.99) by clicking through to Amazon.com from the following Web address: www.blackparisprofiles.com.
P.S. Remember that you don't need a Kindle device to read Black Paris Profiles. Get the free Kindle reader app that you need here: Free Kindle Reader Apps.
* * * * * * *
Like our blog? Join us on Facebook!
Tags: Black Paris Profiles™