We purchased a 100-gram tablet of Cachet brand dark chocolate from Uganda at the Ambre & Sucre chocolate boutique on avenue des Gobelins in Paris. The tablet is made from 80% forastero coco beans, the most common chocolate bean on the market. "Common" does not mean mediocre however, because the tablet gives off a wonderfully fragrant aroma of chocolate. It has a matte finish, is firm to the bite, and has a soft, almost silky texture in the mouth as it dissolves. Even though it contains 80% dark chocolate, the tablet does not taste bittersweet…just the pleasant, intense, earthy flavor of chocolate comes through!
Ambre & Sucre is the sole distributor of Cachet brand chocolate in Paris.
Ambre & Sucre
10 bis, avenue des Gobelins
75005 Paris
Tel.: 01.43.37.39.64
Open Tuesday to Saturday from 10:00 a.m. to 7:00 p.m.
Metro: Gobelins (Line 7)
* * * * * * *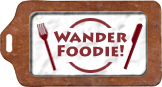 We participate in Wanderfood Wednesdays. Head over there to explore food from around the world!
* * * * * * *
Like our blog? Join us on Facebook!
Tags: Ambre & Sucre, Cachet, dark chocolate, Uganda