In early September we ventured into Le Comptoir de Tunisie, a boutique that sells fine-food products from Tunisia. There, on the shelf, we spotted a bottle of Gris d'Hammamet. We've tasted rosés, reds, and whites, but rarely do we come across a vin gris, a "grey" wine. Intrigued, we purchased it and took it home to try.
After chilling it in our refrigerator, we opened it to taste. A dry, medium-bodied wine with a note similar to a poppy-flavored kir that we once enjoyed, it has a brilliant, pale, pink-and-orange peach-skin color. A long finish revealed a slight caramel flavor. The wine went well with a veal dish that we prepared.
Le Comptoir de Tunisie
30, rue de Richelieu
75001 Paris
Tel. 01.42.97.14.04
Open Monday to Friday from 11:00 a.m. to 7:00 p.m.
Metro: Palais-Royal (Lines 1 and 7) and Pyramides (Lines 7 and 14)
* * * * * * *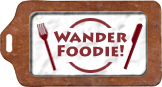 We participate in Wanderfood Wednesdays. Head over there to explore food from around the world!
* * * * * * *
Like our blog? Join us on Facebook!