Monique and I had the pleasure of receiving an invitation to a tasting and presentation of wines produced in the Barolo district of the Piedmont region of Italy by Marco Parusso. The tasting took place at I Golosi restaurant in Paris, an Italian restaurant for which we later wrote a review.
While we sipped nine different wines (two whites, and seven reds), Mr. Parusso talked about his technique of wine production.
We learned that he works very hard at quality control during each step of wine production—from harvesting the grapes to bottling—and that some of his methods are rather unusual. During the harvest, bunches of Nebbiolo grapes are placed in containers and then carried to an atmospheric-conditioned storage room where they "rest" for three to nine days. During this time, at least three things happen: the grapes continue to ripen, the tannins become more mature, and the grape stalks absorb oxygen. It is this absorption of oxygen that Mr. Parusso desires because he believes that oxygenation of the grape juice is an important part of the wine-producing process (unlike many wine producers, who try to protect the grape juice from oxygen).
After this stage, the grape bunches are placed in a roto-fermenter, a tank that macerates the grape skins, juice, stalks, and pulp during the stage of fermentation and maceration. During the first days of the process, the temperature is kept at 8°-10°C. In the final stages, the temperature is elevated to 30°C and then reduced to 21°-25°C to control fermentation. Mr. Parusso only uses indigenous yeasts.
After maceration, the wine is transferred to barriques (wine barrels) made out of new and old French oak. There it ages for up to 24 months. During this process, a technique called bâtonnage is applied, in which the lie of the wine that falls to the bottom of the barrique is stirred.
Finally, the wine is decanted, clarified, and transferred to bottles.
During the presentation we enjoyed tasting a number of Parusso's wines. The following are notes that we took on two of the wines, one white, the other red:
Langhe Bianco DOC Bricco Rovella 2010 (made from white Sauvignon grapes) – suave bouquet of soft, sweet pineapple, smooth body, long finish with burnt sugar as the final taste sensation
Barolo DOCG Bussia 2004 (made from Nebbiolo grapes) – animal notes, dried fruits (prunes and raisins), quite soft
It is notable that even though Mr. Parusso's wines are aged in oak barrels, we did not taste the presence of oak during the tasting.
Marco Parusso is intensely passionate about his wines. One of the things that might distinguish his production techniques from those of other wine makers is that he treats oxygen as an ally, rather than as an enemy. According to him, his wines are ready for drinking much more quickly than wines produced by traditional techniques. (Historically, Barolo wines had to be aged for many years to soften the wine.) Because Mr. Parusso's wine has been exposed to oxygen during the winemaking process, a newly opened bottle will keep for several days.
* * * * * * *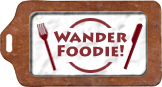 We participate in Wanderfood Wednesdays. Head over there to explore food from around the world!
* * * * * * *
Like our blog? Join us on Facebook!
Tags: Barolo, Italian wine, Marco Parusso, wine tasting