One of the advantages of writing about restaurants is that I occasionally get invited to restaurant openings. On the evening of Friday, April 29, La Table des Anges hosted such an event for journalists and my partner and I attended.
Although the formal opening took place that night, the restaurant has already been open for about five weeks. At the opening, we had the occasion to speak with Jacques-Henri Strauss, one of the partners in the enterprise. He told us that the restaurant plans to serve three types of cuisine: vegetarian (inspired by Indian and southern French foods), traditional French (leg of lamb, beef-carrot stew, and eventually ham on the bone from Eric Ospital, whose company is renowned for its pork products), and what he called "discovery" (food from the Middle Ages and earlier times, molecular cuisine, foreign cuisines such as Indian curry…).
Inside, the restaurant displays bare-stone walls; a light-toned wooden-plank floor and wooden tables; figurative, semi-abstract art on the walls; and fabric-covered benches. The dining room and bar are located on the ground floor. An open kitchen and two large tables for dining are located downstairs. Jacques-Henri told us that tapas will be served downstairs, whereas traditional dining will take place on the ground floor.
While we conversed with Jacques-Henri, we were served four kinds of tapas. One was a triangular-shaped brick pastry folded over goat cheese and spinach. Another was a crescent-shaped pastry that contained sweetened ground meat. The third was a breaded ball containing cod and potato; and the fourth was a cube of Spanish tortilla containing egg and potato. All of the tapas were appetizing. We noted, in particular, that the cod in the breaded ball did not have a fishy taste, attesting to its freshness.
For the wine accompaniment, we were served first a glass of Picpoul de Pinet – Domaine Val Grieux, a white wine from the Languedoc region. Following this, we were served a glass of red Zinfandel from Agnes' Vineyards in Lodi, California.
One of the four partners in this enterprise is Denis Robin, CEO of the restaurant chain Pain Quotidien, a restaurant at which we have had the pleasure to dine on several occasions. Based upon what we saw and experienced Friday evening, we believe that La Table des Anges has great potential for becoming a restaurant for informal dining on fine fare.
The restaurant is located at 66, rue des Martyrs (metro: Pigalle, lines 2 and 12) and is open from Monday to Saturday from 9:00 a.m. until midnight. Open for brunch on Sunday.
* * * * * * *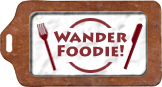 We participate in Wanderfood Wednesdays. Head over there to explore food from around the world!
Like our blog? Join us on Facebook!