The Brûlerie Artisanale is a coffee-roasting facility located at 7, rue du Rendez-vous in the 12th arrondissement of Paris. As well as fresh-roasted coffees, the shop sells a great variety of teas, chocolates, and confections. The proprietors are a husband and wife team; their names are Jacky and Clotilde.
Clotilde, who hails from Spain, took time to tell me about their selection. Many of their coffees are single-origin, including beans from Colombia, Nicaragua, Honduras, Haiti, Hawaii, and New Guinea. I selected 250 grams of whole-bean coffee from the Dominican Republic, selling for 21.60€/kilogram. The chalkboard on which they had written descriptions of the different coffees indicated that the flavor of the Dominican Republic coffee was "intense" and "explosive," with notes of "prune and zest of citrus."
Back home, I brewed the coffee in my French press. Upon tasting it, I found its flavor robust and intense. The aroma of the coffee is quite sweet, and while I agree that it has the fragrance of prune, I could not detect zest of citrus. Nonetheless, it is a smooth, rich, and fully satisfying coffee.
Jackie told me that he roasts his coffees until the beans display the color of "robe de moine" (medium roast).
The Brûlerie Artisanale is a great place to shop for small gifts of chocolates and confections to take to the folks back home, as well as for single-origin coffee from different parts of the world.
Bonne dégustation!
* * * * * * *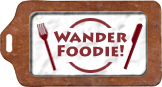 We participate in Wanderfood Wednesdays. Head over there to explore food from around the world!
Like our blog? Join us on Facebook!