Pralus was founded around 1948, when August Pralus opened a pastry shop in the town of Roanne. In 1955, he won the distinguished Meilleur Ouvrier de France award, a title attributed to outstanding craftsmen in their trade. And, in the same year, Mr. Pralus created a butter brioche containing praline made from Valencia almonds and Piedmont hazelnuts. The pastry quickly became Pralus' signature dessert and remains popular to this day.
In 1988, August's son François took over the business and decided to set up a laboratory dedicated entirely to the manufacture of chocolate. Today, Pralus claims to be one of the last three French Master chocolate makers to make its own chocolate directly from cocoa beans.
We stopped by the Pralus shop on rue Rambuteau and purchased an assortment of single-origin chocolates (75% cocoa). Unlike the single-estate chocolates that we wrote about on January 19 (which come from identifiable chocolate plantations), the single-origin chocolates that Pralus sells are identified with different countries throughout the world.
The assortment that we bought consists of a single square of chocolate from each of the following countries:
Papua New Guinea
Smooth; pure chocolate flavor.
Indonesia
Woodsy, mossy flavor; smooth texture.
Sao Tomé & Principe
Light flavor, but long aftertaste; smooth texture.
Trinidad
Slight aroma of light tobacco; assertive flavor with grassy notes.
Venezuela
Toasty and smooth.
Ecuador
Rich, toasty; slightly fruity flavor.
Colombia
Sweet, slight caramel flavor.
Madagascar
Mild aroma; soft and fruity flavor.
Ghana
Strong aroma; spicy flavor (allspice).
Tanzania
Muted aroma; smokey, woody flavor.
As well as single squares of chocolate, Pralus offers full-sized chocolate bars (100 grams) made from the chocolate of each country.
Pralus has two shops in Paris, one at 35, rue Rambuteau in the 4th arrondissement, and the other on the 6th floor of Galeries Lafayette at 40, boulevard Haussmann in the 9th arrondissement.
Bonne dégustation!
* * * * * * *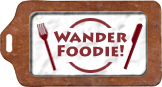 We participate in Wanderfood Wednesdays. Head over there to explore food from around the world!
Like our blog? Join us on Facebook!