We stopped by Ambré & Sucre on avenue Gobelins and purchased a 100g tablet of Cocoa Nibs 70% Dark Chocolate from Corinne Blum, the proprietor of the store.
The chocolate contains crushed cocoa beans (nibs) that have been caramelized. When the chocolate is allowed to melt slowly on the tongue, a hint of the caramel coating of the nibs becomes apparent. The caramel is not strong, however, as the nibs provide more texture than they do flavor. When the chocolate is bitten into, the chewy nibs give a satisfying crunch. The chocolate itself is velvety and slightly sweet, leaving a strong chocolate aftertaste at the back of the tongue.
Ambre & Sucre is the sole distributor of Cachet brand chocolate in Paris.
Ambre & Sucre
10 bis, avenue des Gobelins
75005 Paris
Tel.: 01.43.37.39.64
Open Tuesday to Saturday from 10:00 a.m. to 7:00 p.m.
Metro: Gobelins (Line 7)
* * * * * * *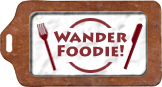 We participate in Wanderfood Wednesdays. Head over there to explore food from around the world!
* * * * * * *
Like our blog? Join us on Facebook!
Tags: Ambre & Sucre, Cachet Chocolate, Cocoa Nibs 70% dark chocolate, Kim's Chocolates