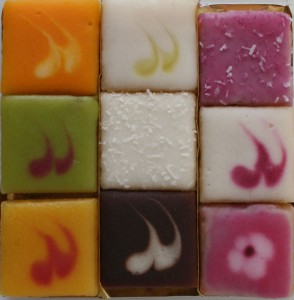 Délits Sucrés (Sweet Misdemeanors) are tender marzipan confections made by Claudine Rémiot. These are not the chewy, industrially-produced marzipans in the shape of fruit or animals that Americans are familiar with. Rémiot's confections are handmade and measure roughly 1″ x 1″ square. They are flavored with fruit liqueur and decorated with natural pastel colorants and little squiggles in the shape of quotation marks. They are so tender that they melt in the mouth!
We purchased a box containing nine different flavors from Mococha, a chocolate and confection shop on rue Mouffetard. (Click here to view a video of the shop's founder, Marie-Hélène Gantois talking [in French] to the camera on the evening that she held an open house to promote Rémiot's confections.)
See our tasting notes below:
Limoncello – Limoncello liqueur by itself is cloyingly sweet, but in this confection the sweetness is attenuated to produce a subtly-flavored lemon delight.
Orange – Zest of orange is evident in the first bite.
Café – Assertive coffee aroma and flavor. Coffee drinkers will like this.
Rhum Vanille – Mild-tasting vanilla and rum flavor.
Mirabelle – Full-flavored, sweet yellow plum. The taste of alcohol comes through.
Poire – The fragrance and flavor of pear is immediately recognizable.
Figue – Delicate-tasting fig. Too subtle for one taster.
Piña Colada – As sweet and delicious as the cocktail after which it is named.
Coco-Fraise – Harmonious, delicate coconut and strawberry flavors.
* * * * * * *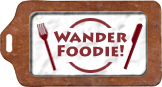 We participate in Wanderfood Wednesdays. Head over there to explore food from around the world!
Like our blog? Join us on Facebook!