I attended the Paris Cookbook Fair the day before yesterday. For me, the fun took place at the food and beverage stands and the cooking demonstrations.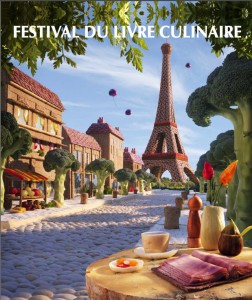 Upstairs, among the book stands, I came upon Husmansbord, a Swedish firm that distributes Swedish food products. There, I met Monika Agorelius who invited me to taste the juice of lingonberry (also called cowberry). It was quite tart and tasted much like cranberry juice. She told me that her family produces this product. Later, I found the link to her company's Web site: Saxhytte Gubben.
I watched Chef Mattias Sjöblom cutting roast pork neck and tasted a morsel with a dab of Nibble Hovsenap med Svensk Whisky, a Swedish-grown mustard made with Mackmyra, a Swedish whisky. Nice!
And I met Agneta Kosowsski who gave me a card for her Swedish grocery store, Affären, in Paris. Later, I went to the Web site and saw photos of some of the 400 Swedish products that the store carries. I'll be stopping by soon!
Monika gave me a package of multi-seeded, jumbo-sized, ultra-thin, oval-shaped crackers to take home and try. Measuring 6″ by 4″, they are wonderfully crunchy and flavorful.
Tomorrow is the day that I post my article on the amazing technique that I learned for making Bad Piggies' Scrambled Eggs. See you there!
* * * * * * *
Like our blog? Join us on Facebook!
Tags: Affären, Festival du Livre Culinaire, Husmansbord, Mattias Sjöblom, Monika Agorelius, Paris Cookbook Fair, Saxhytte Gubben