To prepare our monthly restaurant review for this month's newsletter, we dined at the restaurant Moussa l'Africain, where we enjoyed Tiep bou dienn, riz wolof and Poulet directeur général. We returned on another day to meet Chef Madi Niakaté and talk with him about his restaurant and the food that he serves there.
Learn about these delicious dishes and read about Chef Niakaté in our extensive review, "Le Bon Goût." It appears today in the June issue of our newsletter Paris Insights. Access to the newsletter is by paid subscription.
Click here to read brief summary of the June issue, and here to enter a subscription.
* * * * * * *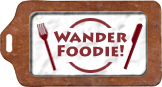 We participate in Wanderfood Wednesdays. Head over there to explore food from around the world!
Like our blog? Join us on Facebook!